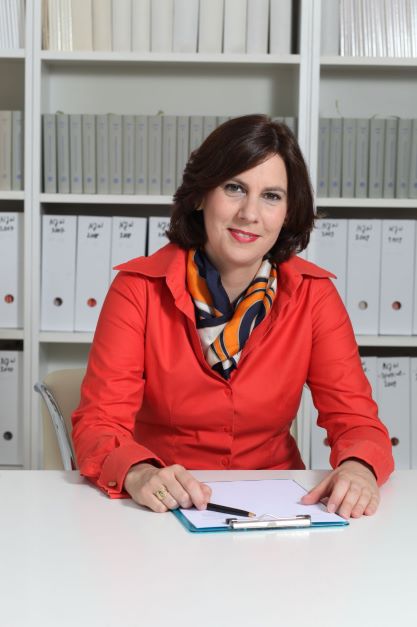 Rechtsanwältin Olga Ira Dimopoulou (lawyer)
since 2002 admitted lawyer (Rechtsanwältin) at the Cologne Bar Association – Germany
since 2006 admitted lawyer (Dikigoros) at the Athens Bar Association – Greece
since 2012 Mediator
Lecturer at the University of Applied Sciences "Rheinische Fachhochschule" and
Lecturer at the University of Applied Sciences "Technology Arts Sciences TH Köln", both in Cologne
sworn translator and interpreter of the Greek language
Training
Law studies at the Universities of Bielefeld and Cologne
Apprenticeship as a mediator at the Kölner Anwaltverein
Languages
German, Greek, English, French
Memberships
Born in Athens to Greek and German parents, Olga Dimopoulou is a graduate of the German School of Athens and studied law at the Universities of Bielefeld and Cologne.
She began her work as a lawyer at national and international law firm Gurland Rechtsanwälte in Cologne.
From 2006 she was General Counsel Greece of the German wind power station manufacturer Enercon GmbH, based in its Athens office.
In 2012 she returned to Cologne as a Partner of Gurland Rechtsanwälte.
She founded dimolegal in 2014.
She is a cross-cultural business mediator (mediator training by the Cologne Lawyers Association / Kölner Anwaltverein) and lectures in business law and business mediation at the University of Applied Sciences of Cologne (Rheinische Fachhochschule Cologne) and the Technology Arts Sciences TH Köln.
She is also admitted by the Higher Regional Court of Cologne as a sworn translator and interpreter of the Greek language.
Ms Dimopoulou is the author of several juridical articles notably in the field of food law and is a regular speaker in German, Greek and English on her legal specialisms.
Mother tongue German and Greek she is also fluent in English and French.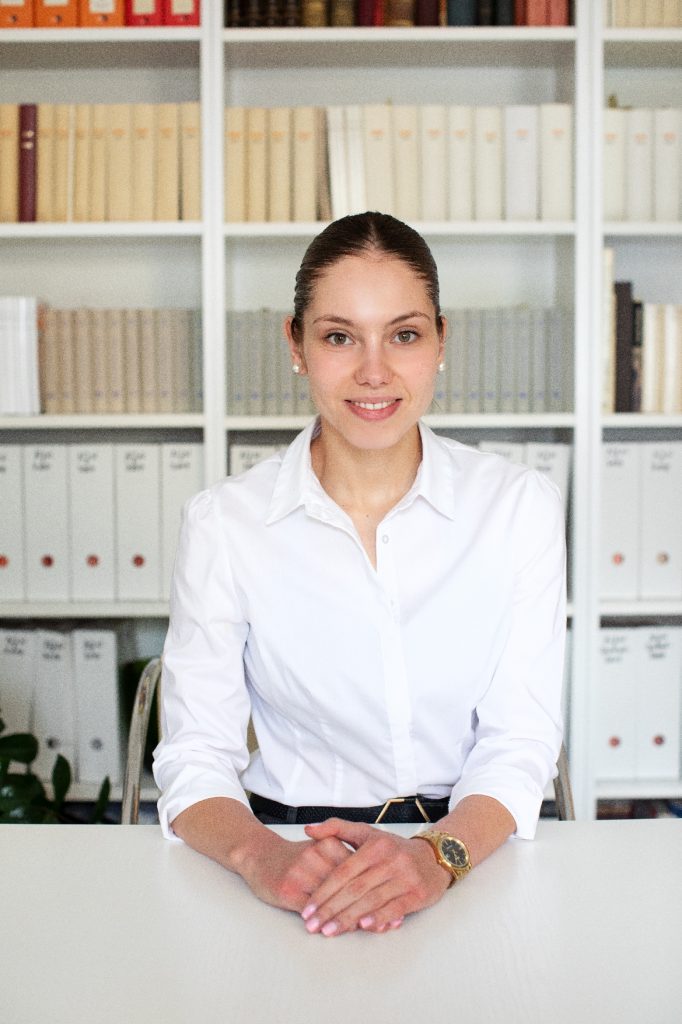 Junior Associate/Research assistant –
Vasiliki Filiou
2014 high school graduation at the High School of Siatista in Siatista, Greece
2014 – 2018 studies and law degree at the Aristotle University of Thessaloniki
2019 – Jan. 2021 Master's degree at the University of Cologne with an expected degree of Magister Legum (L.L.M.)
2021 expected to be admitted to the Thessaloniki Bar
Languages
German, English, Greek.
Vasiliki Filiou was born in Kozani, Greece. In 2014 she passed the Panhellenic Exams (high school diploma) as one of the best of her year in all Greece. She then completed her law studies at the Aristotle University of Thessaloniki, Greece. During her studies, she studied Greek, European and international law. In addition, she has deepened her knowledge of civil, labour and criminal law.
In October 2019, she began her master's degree in "law for lawyers graduating abroad" at the University of Cologne in order to broaden her knowledge of German law. Through her master's degree program, she has dealt in detail with German civil law, labour law and company law. She is particularly interested in labour law and completed her master's thesis in Cologne under the supervision of Professor Dr. Dr. h.c. Ulrich Preis, on: "Sickness-related Termination / Dismissal and Companies' Internal Re-Entry Management" ("Die krankheitsbedingte Kündigung und das betriebliche Eingliederungsmanagement").
Ms. Filiou currently supports dimolegal as junior associate and research assistant. In the current year 2021, she is also expected to be admitted to the Thessaloniki Bar, Greece.